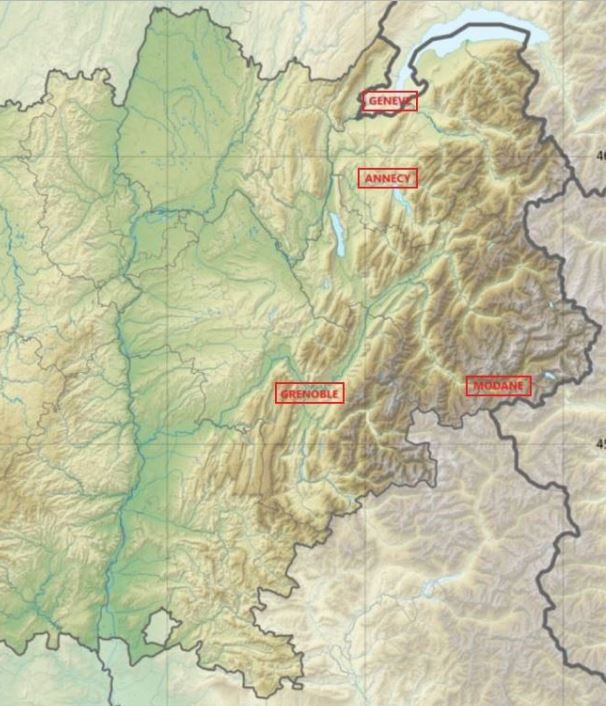 Labex is the contraction of Laboratoire d'Excellence. Labex entities are part of France's "Investing for the Future" program. They are funded by the ANR after a selection based on the excellence of the project. Enigmass was initially funded in 2012, and was granted a 5-year extension over 2020-2024, upon successfully passing a new selection step with an updated proposal building on the achievements of the first stage. We refer to the 2012-2019 stage of the Labex as Enigmass1, and to the 2020-2024 stage as Enigmass2.

Enigmass federates about 120 scientists – all working on the fundamental question of mass and associated topics – in three laboratories (LAPP, LAPTh and LPSC which includes LSM) located along the northern alpine arc that extends from Grenoble (LPSC) to Geneva (CERN), including Annecy (LAPP, LAPTh) and Modane (LSM). As a Labex, Enigmass is affiliated to the IDEX « Université Grenoble Alpes (UGA): Université de l'innovation » – thus implicitly to CNRS and its IN2P3 and INP institutes – and to Université Savoie Mont Blanc (USMB). The involvement of Enigmass in international projects, its ideal location in the vicinity of CERN and of LSM (one of the very few large European underground facilities), as well as its proximity to major European facilities like ILL, ESRF, IRAM and to strong national laboratories such as IPAG and Institut Néel, make it a unique world site for undertaking a long-term comprehensive research program on the question of mass in particle physics, astrophysics and cosmology. A quarter of Enigmass scientists are theorists with expertise in most of the subjects addressed by the consortium.

The research program of Enigmass addresses all the major topics in the field, through both experiment and theory: the mass of elementary particles, the existence of new phenomena beyond those described by the standard model, the nature of dark matter and dark energy in the Universe, gravitational wave astronomy, multi-messenger astronomy, the origin and nature of high-energy cosmic rays, gravitation and cosmology. The consortium also supports a significant outreach program.

The Enigmass2 proposition document is available for Enigmass labs members only. You probably received it by email or you may retrieve it here: Enigmass2 project.

















Attachments
(1)
5-découpeRégion.JPG​ (

84.0 KB

) - added by 3 years ago. Carte topographique d'une partie de la région Auvergne-Rhône-Alpes, France, destinée à la géolocalisation.©NASA Shuttle Radar Topography Mission (SRTM3 v.2 & SWBD) (public domain)
Download all attachments as: .zip
Note:
See
TracWiki
for help on using the wiki.